Paul Laxalt State Building
From Carsonpedia
The Paul Laxalt State Building is a former United States Post Office and Courthouse in Carson City. It is located at the northeast corner of Carson and Telegraph streets; the address is 401 North Carson Street. This imposing structure represents the first federal office building constructed in the State of Nevada. It was built in 1891.
Located at 401 N. Carson Street, next door to the Carson Nugget and across the street from Cactus Jack's, it is currently housed by the Nevada Commission on Tourism, the state's marketing arm for the tourism industry. The publishing staff for Nevada Magazine, the state's official bimonthly tourism magazine, occupies the first floor.
History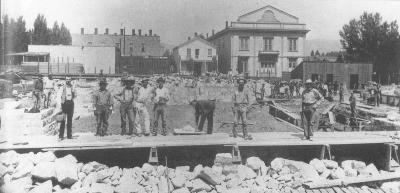 Designed by Mifflin E. Bell, Supervising Architect of the Treasury Department, the building incorporates many elements of the Romanesque Revival style. Construction began in late 1888 and was completed in 1891 at a cost of $134,605.53. Subsequent interior designs were made by Bell's successors, Will Frost and James Windrum.
Thomas P. Hawley was the first United States District Judge to preside in Carson City. The last federal judge was Bruce R. Thompson whose court was moved to Reno, August 1965.
This building ceased to serve as a post office in 1970 with William E. Dunfield as Postmaster. Deeded to the State in 1971 and listed on the National Registry of Historic Places in 1979, the Government Building continues to serve the public.
Unnamed for over 100 years, in 1999 the former Post Office was dedicated in honor of former Nevada Governor and U.S. Senator Paul Laxalt.
Historic Photos
See Also