Arlington Hotel
From Carsonpedia
The Arlington Hotel was an historic hotel and retail building in downtown Carson City. It was located in the 500 block of north Carson Street, on the west side between Spear and Robinson. It was built in 1877 and torn down in 1966.
History
In late 1860 the Corbett brothers, Daniel and William, arrived in Carson City from Downieville, CA. They had immigrated there from Nova Scotia in the early 1850's as part of the mass rush to the California gold fields. They were carpenters, and were able to find plenty of work in this growing town. In 1865, they built a building of their own, a hotel on Carson Street at Robinson. They named it the Corbett House, and it became one of Carson's prominent hotels.
In August 1876 the Corbett House burned down. The brothers got to work rebuilding, and when they were done they had the brick building you see here, named the Arlington Hotel.
The Arlington Hotel remained one of the premier hostelries in town. As the years went on it went through several owners. In 1902 it was bought by Wilson Brougher, a mining tycoon who had just arrived from the gold fields of Tonopah. He also built the Brougher-Bath Mansion one block away. In 1907 the proprietors were listed as Charles Stout & Wm McMillen.
The Arlington Hotel took up almost the entire block between Spear and Robinson, but not quite. It did have one neighbor at the corner of Carson and Spear, the Gray Reid Wright Building.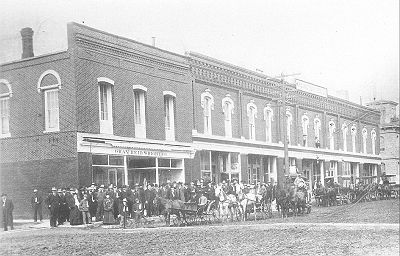 By 1966 the Arlington Hotel had lost much of its former luster, and the owners decided to demolish it rather than go through costly renovations. The whole block was leveled. Today that block is home to the Carson Nugget's west parking lot. In recent years the block has been used for special events, and is home to the city's ice skating rink during the winter. During these special events it takes on the name "Arlington Square" to pay homage to the past.
External Links