Old State Printing Office
From Carsonpedia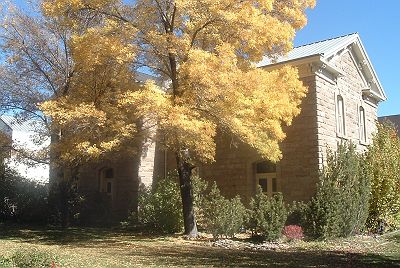 The Old State Printing Office is a historic building in Carson City. It is located within the Capitol Plaza, and is part of the Nevada State Library and Archives complex.
History
The Old State Printing Office was built in 1886, as the second building built in the Capitol complex, after the Capitol itself. It was designed by architect Morrill J. Curtis, who went on to design the octagonal annex to the Capitol in 1906. It was built out of the same sandstone bricks as the Capitol, from Curry's quarry at the State Prison, and sat at the corner of Fall and 2nd Streets in the Capitol's backyard.
This building served as the State Printing Office until 1964, churning out official documents from its presses for nearly 80 years. In 1964 a new printing office was built across Stewart Street, and other State agencies moved into this building.
South side of the Old State Printing Office on a fall day.
In 1992 the building was "incorporated" into the new State Library building, which in this case means that the new library was built so that it shares a wall with the Printing Office. Fall Street was abandoned at the same time, and the library is a huge hulking structure that dominates Stewart Street, so this building is completely invisible from the street. The only way to see the Printing Office now is to park your car and hoof it onto the Capitol grounds. Even then you have to strain to see it through the trees.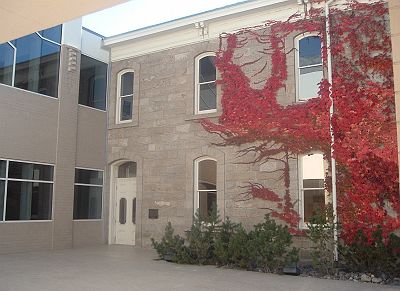 Where they joined the new State Library to the Printing Office.