Governor's Mansion
From Carsonpedia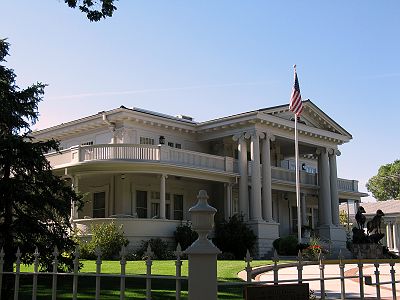 The Nevada State Governor's Mansion is the official home of the governor of Nevada. It is located at 600 Mountain Street, in Carson City. It is currently occupied by Governor Jim Gibbons and his family.
History
For over a hundred years, this has been the residence and offices of Nevada's Governor. Construction was completed in 1909. The total cost was $22,700. The land the mansion sits on was donated to the state by T.B. Rickey, whose house still sits across the street to the south at 512 Mountain. Legend has it that it was actually Rickey's wife who donated the land, while he was out of town on business. Upon his return he was distressed to learn of his wife's generosity on his behalf, but it was too late to renege on the deal without losing face.
Previous to the mansion being built, Nevada's governors lived and held office in their own private residences. Each of these houses was called the "Governor's Mansion" during the term of the governor. The first governor to live in the mansion was Denver Dickerson. Dickerson had been the lieutenant governor, but he was elevated to higher office upon the death of John Sparks in 1908. Two months after moving in, his daughter June Dickerson was born here.
See also: Nevada State Historical Marker #259
External Links