First Presbyterian Church
From Carsonpedia
The First Presbyterian Church is a historic church in Carson City. It is located at 110 N. Nevada Street, at the corner of King and Nevada. It was built between 1862 and 1864.
History
The First Presbyterian Church is the oldest church in Carson City. Construction started in 1862, but had to be halted because the congregation ran out of money. It wasn't until Mark Twain, whose brother Orion was a Presbyterian, organized a fundraiser in 1864 that the structure could be completed.
It has been added to and expanded over the years, and in January 2006 was in danger of being demolished to make way for a larger, more structurally sound building. Community outcry convinced the congregation to save the church and build a new, larger, sanctuary behind it.
Construction on the new sanctuary began in 2007, and in 2008 is nearing completion.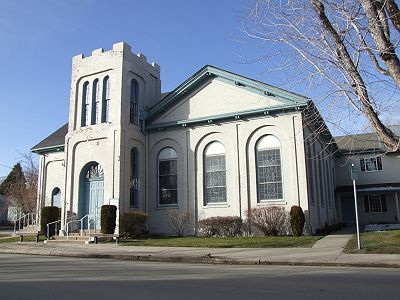 External Links