Brougher-Bath Mansion
From Carsonpedia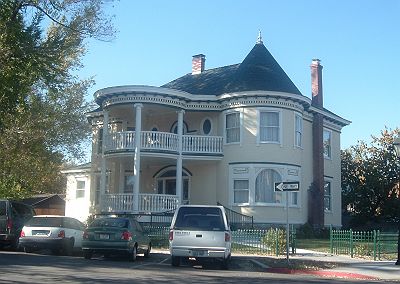 The Brougher-Bath Mansion is a historic house in Carson City. It is located at 204 W Spear Street, at the northwest corner of Spear and Curry. It was built in 1903 by Wilson Brougher, a mining tycoon who owned the Arlington Hotel right next door. The Arlington has long since been demolished; it is now a parking lot across the street from the Nugget. But Brougher's mansion still stands.
In 1936 the house was sold to Ernest Bath, Carson City's postmaster. At that time the Post Office was located in the Laxalt Building (even though it wasn't called that), just two blocks from the mansion. Ernest Bath liked to sit on the balcony of his house so he could watch the clock tower at the post office and make sure the time was correct.
During the second half of the 20th century the house fell into disrepair, but an extensive renovation brought it back to splendor just in time for its 100th birthday in 2003. It is now privately owned and used as office space, but opens for tours occasionally throughout the year. It can also be rented out for weddings or parties.
External Links