Blasdel Building
From Carsonpedia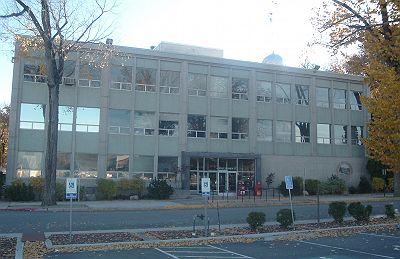 The Blasdel Building is a state office building in Carson City. It is located at 209 E Musser Street, directly to the northeast of the Capitol. The building is named after Henry Blasdel, the State of Nevada's first governor. It was the first building constructed in a 1950s initiative by the State Public Works Board to consolidate the operations of the state government. This plan included the demolition of the old Capitol Building, which they claimed was obsolete, and the construction on the site of four office buildings surrounding a central quad.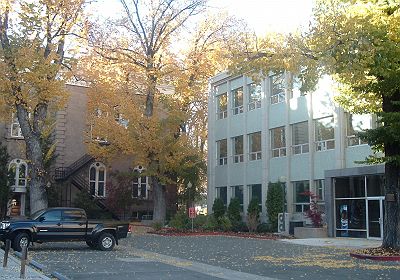 The back of the Blasdel Building, which would have been the "front", facing out towards an imaginary quad. See how close it is to the State Capitol, on the left?
The 1959 Legislature stopped this effort by passing a law prohibiting the destruction of the old Capitol building. It was later renovated extensively to bring it up to modern safety standards. But the Blasdel Building was built before the law was passed, so now it crowds the Capitol uncomfortably on one side.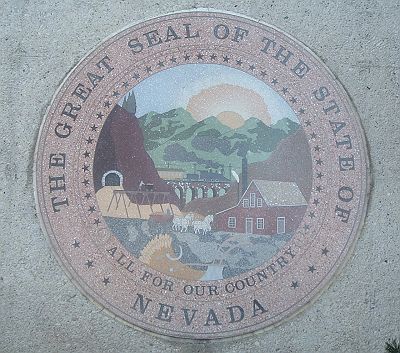 One cool thing about the Blasdel Building is this State Seal inlaid into the wall.
Today the building houses a variety of state offices. Its post-war, concrete-and-glass design doesn't fit in at all with the other stone buildings in the Capitol complex, and several legislators have called for it to be torn down. Given the more pressing situation at the Kinkead Building, as well as the building's overall structural soundness, I don't think Blasdel is going anywhere.
References
External Links
Satellite Image at Google Maps. Note how the Blasdel Building sits at the very corner of the Capitol Plaza, waiting for the three brothers that will never come.